Ellensburg Tesla Roadster HPC Charging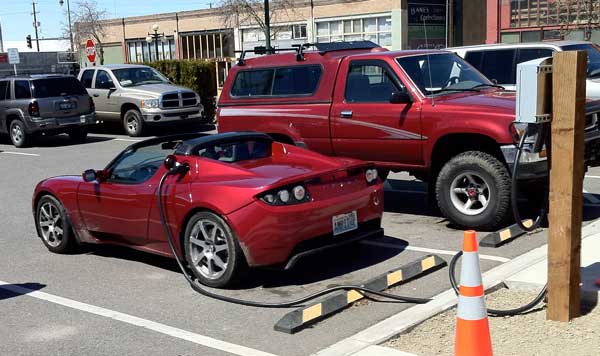 Community-Funded 70A Charging in Ellensburg
Since May of 2011, the city of Ellensburg has graciously hosted a 240V/70A electric vehicle charging station. This has provided a great benefit to drivers of electric vehicles capable of charging at this high rate (so far that's only the Tesla Roadster and other Tesla vehicles via an adapter). There are also three ChargePoint stations that charge other electric vehicles like the Nissan Leaf and Chevy Volt at their maximum charge rate.
---
Site Reports
May 3, 2019 - From the electric bill, someone used the station last month.
Send site reports to [ellensburg-hpc].
---
Funding
To ensure this is a sustainable ongoing operation, we need to collect funds from those who use and wish to preserve this important charging location. Since adding a billing and access control system would cost more than operating the station for several years, this means we have to fund it with donations.
Any funds donated for the Ellensburg charging will be used only to pay the station's utility bills and cover any required maintenance. If at some point in the future the station is taken out of service for any reason, any remaining funds will be donated to another charging infrastructure project of interest to the Tesla community.
We suggest a donation of $5 per charging session (up to two hours). This will barely cover our total utility costs, including fixed monthly fees. Sponsorship levels are listed below.
Checks may be sent to:

Tom Saxton 
Ellensburg Charging Fund
3020 Issaquah Pine Lake Road #222
Sammamish, WA 98075-7253

Donate via PayPal:
Note: donations are not tax deductible.
---
History
In May of 2011, with lots of help from EV supporters in Ellensburg, we (Tom & Cathy Saxton) donated a Tesla Roadster HPC to the city of Ellensburg to make it convenient to travel not only to Ellensburg but also as the link between the Puget Sound area and eastern Washington for Tesla Roadster owners. The station has served the Tesla Roadster community well with the electricity being paid for initially by the Ellensburg Lodging Tax Advisory Committee.
With the introduction of the Tesla Model S, and an adapter to convert plug types, usage of the station increased dramatically. Through September of 2013, the electricity for both the station and the adjoining restrooms was generously paid for from the lodging tax. At that time, the Lodging Tax Advisory Committee decided to end their funding of the electricity for both the restrooms and the charging station.
Because the station is still vital to Roadster owners, and also Model S owners who prefer to charge downtown within easy walking distance of a number of good restaurants, we stepped in to take over paying the electricity bill for the station, which is now on a dedicated utility meter. (The Parks Department is now paying the bill for the restrooms.)
---
Gold Level Sponsors ($100+)
Jack Chen
Christa Dahlke
Dave Denhart
Deb & Warren Fisher
Bruce Oberg
Mary Piggot
Erik Richmond
Rob & Diane Rutherford
Tom & Cathy Saxton
Silver Level Sponsors ($50-$99)
Vincent & Maggie Argiro
Kit Ellis
Bob Jordan
David & Helen Kiker
Tom Lennon & Trish Keegan
Stephen Ou & Lea Schellhous
Joe Pruitt
Brian & Syndi Town
Bronze Level Sponsors ($20-$49)
Dirk Hohndel
Brandon Kelly
Boris Mezhibovskiy
Chad & Carrie Schwitters
Jerry Gibson